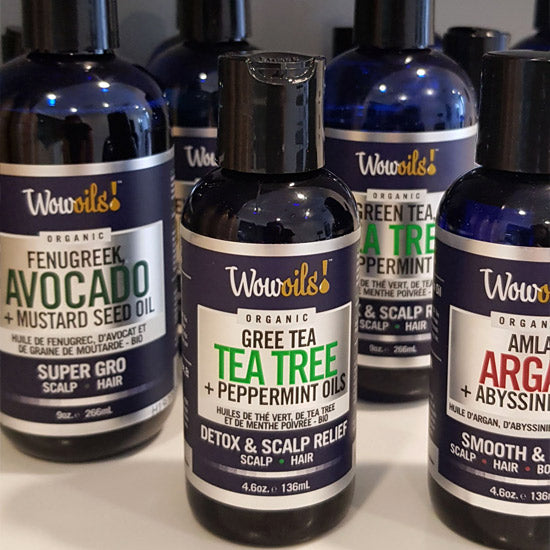 5 reasons why you should incorporate oils into your hair and skin routine NOW!
With the weather finally heating up in the UK, now is the best time than ever to add oils to your beauty routine for long-lasting moisture and shine.
Oils are often relegated to the role of a winter beauty ingredient that we should only use during the cooler months. But it's worth noting that oils can be and should be used all year round, especially during the summer. Using a quality oil will help to smooth your skin, scalp and hair, as well as lock in that all-important moisture that we often lose due to absorption from the sun. Read below for five fab benefits of oils.
1. Improves your nail health.
Tired of your nails feeling dry and brittle? Then add some essential oils to your nail regimen. Essential oils is crucial to the overall health and strength of your nails, as oils enable your nails to receive much-needed moisture and replenishment, which they often lose from nail products such as traditional nail polish and shellac. Oils also bring strength and flexibility to nails, which gives them more endurance as you complete day-to-day tasks - ultimately protecting them from chipping, splitting or flaking. Wow Oils Coconut Oil, £11.70 works wonders, helping to rejuvenate and nourish dry nails. We recommend you apply it to your nails at least once a day to really treat and repair them.

2. Protects hair from the damaging aspects of the sun
Exposure to different elements like the wind and the sun can leave hair brittle and therefore prone to damage. This is especially true during the summer months when the increased exposure to sunlight and UV rays makes our hair even more vulnerable to damage. Apply Wow Oils Organic Jamaican Black Castor Oil, £11.70 to your hair to quench dry crunchy strands. This pure organic oil contains a natural potency that will help to rehydrate parched strands of hair to make it strong, healthy and able to withstand UV rays. Due to its thick consistency, you only need a few drops to apply to your mane every 2-3 days, and you will be rewarded with soft to the touch hair that is protected all summer long.
3. Keeps itchy scalp nourished
An itchy, irritable scalp is particularly common during the summer months especially if you frequently wear protective styles like braids, wigs and weaves. Tea tree oil is an ancient remedy renowned for soothing and calming the scalp, and also protects it from common scalp ailments such as dandruff. Use an organic oil such as Wow Oils Organic Tea Tree, Green Tea and Peppermint Oil, £11.70 to reverse your dry and dehydrated scalp. Use the tips of your fingers and deeply penetrate the oil into your scalp to clear and detoxify your clogged and blocked pores.
4.Keeps your skin smooth and supple
Excessive sun exposure causes wrinkling, tissue slackening and pigmentation abnormalities to your skin. Incorporating a natural oil like olive oil to your routine helps to prevent damage from UV light by protecting the skin layers, which is what causes skin damage. Also, olive oil contains a compound called squalene which hydrates the skin and promotes the production of collagen – a natural protein that's lauded for giving the skin a supple and youthful glow. Wow Oils Extra Virgin Olive Oil, £11.70 is a light, non-greasy formula that replenishes dry and rough skin to keep it looking smooth and radiant.
5. Strengthens the hair which = GROWTH!!
Regularly using hair oils as part of your hair regimen will help to increase the elasticity of hair, making it less prone to breakage. For those on a hair growth journey will be delighted to know that your hair will retain its length as it becomes stronger and more fortified. We recommend Wow Oils Organic Black Seed Oil, £11.70 – a light, non-greasy organic oil that deeply moisturises dry and damaged hair.